09.02.2007 Roppongi morph-tokyo
From masa
Valentine. To my beloved angels.
Ever since I passed from last year into the new year, I was longing for this night to meet everyone.
Including this raising desire into a song, the arrow aiming at the heart was shot with a twang.
Looking into the mirror every day and searching for the favourite self, please come to meet again.
From Tak
For me today's performance was the last マァマァサ concert before leaving, so there was a little bit of loneliness but still I was all happy and energetic.
やっちゃいすぎて5弦ギターになっちまいましたが(泣)
(Sorry I don't know some words. Would he have played far too much on a five string guitar? What does he say? XD;;)
As for that, on the concert at 25.03 I will return and then lets rise again with everybody.
From Junn
Glitter beam transmission!
The handkerchief was useful?
It's one month again until next concert (tears)
Expect even more of the sparkling aristocrat manners~☆
From AKITO
Thank you for the many presents and valentine chocolates!
That is the best present to a sweet tooth like me.
Also, thanks for the birthday presents~!
I am glad beyond words!
The next will be the CITTA, the concert where Tak is absent but however, it will be マァ☆ムゥ's first large venue, so we'll do our best.
Today I'll eat the chocolate and then curl up and sleep.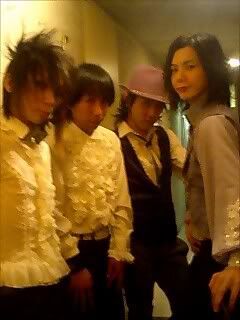 Ok. Yesterday I hit the wrong button and killed my feeble tries to translate this (+_+) god that sucked. Ok, I hope this is halfway understandable, it sounds so odd even to myself partly but I cannot find a better expression, sorry. Yeah you guessed it, it's one of those days where I realise that I actually suck in translation lol. Of course I keep on trying my best and continue learning.