Shinjuku LOFT
from masa:
To my beloved angels.
Could you enjoy tonight's concert?
We invited to the holy grounds of Rock'n'Roll in Shinjuku LOFT, the universe of マァムゥ seemed to fit in well, however, with all of you angels it was a ball for me.
Wrapped up in everyone's gentleness I sang the love.
Wherever the places might change, the angel rule will not change.
Let's meet again. Good night. Chuu.

from Tak:
Thanks for joining マァマァサ ムゥ first concert in LOFT!
Personally ~ I enjoyed myself in several years appearance in the LOFT..
Did マァマァサ ムゥ present an appropriate cover tune, what do you say?
It was another powerful Show while heading towards the end of 2006 ☆
Well then, next time in Kashiwa ZAX! ☆

from Junn:
Thank you!
Thanks to the angels, I got another step closer to being an aristocrat.
Also, I started a Blog.
http://plaza.rakuten.co.jp/junn2fhallywell/

from AKITO:
How was the first マァムゥ concert in Shinjuku LOFT?
This time with the outfit, the prince was a matador of the Middle Ages.
However, in Kashiwa ZAX you will or won't see the new clothes of the prince.
Look forward to next time in anticipation!!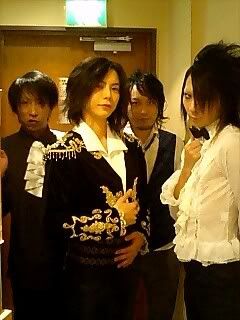 Wahaha that reminds me of that fairytale, "The Emperor's New Clothes", masa is coming naked next time then? 8D Wouldn't we all like to see?
And goatee on Junn?... I totally didn't notice that yet o_o and haha AKITO with that napkin again XD! I wanna see a Show, they look so... funny?