20.10.2006 Takadanobaba AREA
From masa:
To my important angels.
Feeling everyone's enchanting glances, he comes wanting to dance spontaneously.
Is that the gradual start of the ball?
Before going to sleep tonight my promo picture is being looked at, then the girls go back to sleep. Let's meet again in the dreams. Good night.

From Tak:
Thanks for coming to the マァマァサ ムゥ concert ☆
How was the show the elegant styled prince delivered today?
And my new song of impact has even been performed!
He thinks that the shape will still change some, and also, the tune and style will be polished ☆
Look forward to next time when again a surprise tune will be announced!!

From Junn:
Ohhh he says. He wants to turn into a prince too... he wants to turn into a Rock prince.
So at this concert he was again one of the common people as it seems.
He cultivates his character every day to become a splendid aristocrat.

From AKITO:
The prince costume can be held little by little seeing from behind,
Oh~ This is also lovely i think, isn't it? I am Ok right?
On the photo afterwards there appears the bib a little white, but it is absolutely different!
Watch out for the next!!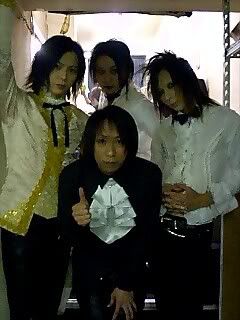 First of all ZOMFG golden golden! Then, i also added some new stuff! I added bigger scans of the promo pics of the first two Demo CDs to the gallery and i also added the lyric scans to the CDs to the release section! And, in the next days there will be more to come, so watch out!!