I don't know if you knew it (well if you are far far away like me, then most probably not =B far away from Japan that is), but well, i gathered some infos about the session band, masa was as a guitar with in the Seventh Heaven Summer Festival!
I found the info here: Monkey Rock Union and there: TATSUYA BLOG It's not that super much but a bit at least (^‐^;)

The session band was 'Sin After Sin' and they played covers of 'LUNA SEA'.
Members were:
Vo: TATSUYA
Gu: hiro
Gu: masa

Setlist as it seems:
1.STORM
2.TRUE BLUE
3.SHINE
4.TONIGHT
5.ROSIER
6.WISH

It was TATSUYA's first experience doing a cover band and also doing visual but he looked... interesting with the make up (though def. better without >.<;)
He and masa must have made a nice sight on the stage, i bet it was a good experience for all of them (o`‐^)b

TATSUYA before Live: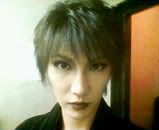 And at Rehearsal with 'Sin After Sin':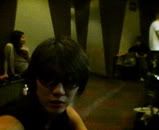 I couldn't find more but i hope you enjoy nevertheless. I don't know TATSUYA btw, neither hiro, nor do i know who else took part in 'Sin After Sin', sorry~!