Summer is passion
It somehow resembles the strong rays of sunlight, however, we are in the middle of summer, aren't we?
Soon one month is finally completed, the countdown to the start of マァムゥ. Every day is filled with plans for the new band.
Since it becomes a performance of full enthusiastic rose colored passion, watch masa the absolute favorite person go wild? And can he be seperated from the person who is anxious?
Enjoying oneself, he's happy, getting into a trance, the more hot it gets.
↓ picture: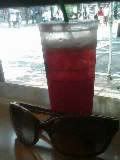 Yes i already feared that, the abbreviation of the new band name. Maamuu. Ma mooh. Mother cow? *cracks up*
Well i am waiting, waiting...
(^‐^)/
PS: Everyone, enjoy the summer as long as it lasts. Over here it gets strangely cool and wet boohoo.